Back in 2015, I had a short, but extremely rewarding trip to San Francisco, where I also visited the historic City Lights Bookstore during my stay there. That was an entire experience in itself, but I didn't want to walk away without a physical memento, so after (possibly illegally) taking a couple of Polaroid photos of the shelves, I decided to look through them and adopt a book to bring home with me.
Nostalgia is powerful. It is natural, human, to long for the past, particularly when we can remember our histories as better than they were.
I was going through a turbulent stage then. After living away from home for the first time in my life, my mind was grappling with new, unfamiliar concepts that I've not had much need to address, before I was thrust into a culture where the right to free speech was abundantly exercised and vehemently protected, and everyone and their mother had an opinion on everything. And that's when Bad Feminist Essays caught my eye. It was an edgy title, in all caps and proudly declaring its content to my intrigued self.
Fast forward to 2017, and I still hadn't read it prior to a week ago. That's the problem with us book hoarders. I only picked it up when one night, I'd inevitably run out of data on my phone, and wouldn't you know it, the WiFi wasn't working well either. That was when the book, nestled between some files from bygone schooldays, called out to me as it did in San Francisco two years ago.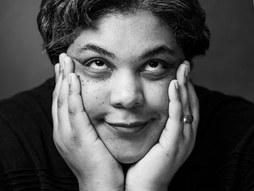 Roxanne Gay's collection of essays speaks from a place where one has overcome that confusing stage in your twenties where you're either constantly half-asleep, scrambling to make the next deadline for your essay or eating ramen for breakfast, lunch and dinner, but by no means is true stability found in your thirties. Aside from the seemingly requisite controversial debates about feminism and its merits as well as limitations in pop culture, Gay's words also centre on her own growing pains as a black woman making her way through the whitewashed world of American academia.  And yet, it isn't self-pitying in the least. She discusses heavy handed topics like privilege and available career paths with a deft touch, barely letting it dip into the territory of a political science assignment.
Inappropriate humour is often the best kind. Everyone knows at least one joke she finds funny even though she shouldn't.
Self-deprecating humour is always a welcome aspect in my reading experience, and Bad Feminist Essays has it in abundance. She reminds us that it's perfectly acceptable to take joy in one's successes, and to take your failures at amateur Scrabble competitions in stride. The anecdotes she shares, from being a diehard Sweet Valley High fan to her own traumatic experiences range from refreshing to achingly vulnerable. I personally enjoyed her autobiographical pieces more as they felt intimate and honest in their unguardedness, rather than her rejection of having a consistent position on the topics she argues for and against in her more political pieces. Bad Feminist Essays delivers punchline after punchline in every part of the collection, and Gay's wit shines through.
If you're looking for a textbook on misogyny and its effect on the different facets of feminism socially and culturally, then perhaps Bad Feminist Essays isn't for you. However, I believe this book does resonate on a more emotional rather than purely intellectual level, flaws and all. Its stream-of-consciousness tone is a familiar meandering path for those of us who have too many thoughts and too few words available to express the stories our thoughts hold. And Roxanne Gay is, in my opinion, definitely talented at storytelling. Her voice is distinctly her own, and yet I see myself in her words, which attests to the truly universal resonance of fighting for a place in the world to call our own, and Gay writes about it splendidly.